School President James Anderson and Careers Adviser Ben Carter invited recent graduates Matt Hailey, Ali Scott, Craig Garrigan and Steve Lowson back to the School yesterday to share their experience of working in the real world since graduating, with our final year students.
They have been successful in securing positions at highly regarded companies including Sky Scanner, PlanForCloud, NCR and NCC Group. Talks described career paths, roles and responsibilities, professional development and current employment opportunities.
Find out more about using your Computer Science degree and read student case studies on the careers website. Thanks to all for a great afternoon. Yes, cakes were consumed.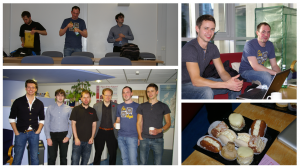 Clockwise from top left:
Steve, Ali and Craig prepare to give their talk.
Matt and Ali reminisce in the coffee area.
James, Craig, Stephen, Ben, Ali and Matt joined our final year students for cake and questions.