Congratulations to Gala Malbasic who won Young Software Engineer of the Year 2017. The awards organised by ScotlandIS were presented at the ScotSoft Awards Dinner yesterday evening. The Young Software Engineer of the Year awards are awarded to the best undergraduate software projects from students studying computer science and software engineering in Scotland.
Gala's project, Leap Up: The Keyboard Renaissance, set out to to make keyboard interaction faster and less complicated and involved creating a hardware prototype, using software to ensure optimal sensor performance and implemented a large gesture set for use within the system prototype. The final year project was supervised by Professor Aaron Quigley.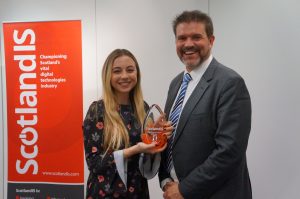 Judged against the level of innovation planning & organisation, technical difficulty, commercial and/or social relevance, quality of engineering quality of presentation and level of knowledge & previous research, Judges considered Gala's project to be exceptional.
As overall winner, Gala received a cheque for £2500 from Sopra Steria, and a trophy from ScotlandIS.
Watch Gala describing her project on YouTube.
Read more about the awards at FutureScot: Women sweep the board at Scottish software engineering awards
Photos courtesy of Aaron Quigley.