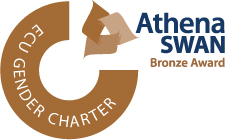 We are delighted to announced that the School of Computer Science has achieved an Athena SWAN Bronze Award, as recognition of our commitment to advancing gender equality.
Almost all teaching staff contributed to the application for the award, as well as many other staff in all categories, research students, masters students, and undergraduates. In congratulating staff, Simon Dobson as Head of School said:
It really does have all our fingerprints on it. The award reflects the fact that we've identified things that we wanted to change and have planned how to make them happen: from now on they'll all just be "how things are" rather than part of an external process.