Dr Alan Miller and Catherine Anne Cassidy of the Open Virtual Worlds research group have been successful in funding from the Impact Innovation Fund for their project "Evidencing and Amplifying Impact of Immersive Exhibits in Highlands and Islands Museums". The project will evaluate the value of digital heritage engagement with virtual reality exhibitions and further develop opportunities to preserve and promote cultural heritage in the highlands and islands of Scotland. Collaborative activities and approaches trialled are intended to discover ways to maximise positive impact. Exhibits are part of the Northern Heritage Network, which provides an infrastructure for transnational collaboration of heritage organisations to preserve and promote heritage within and beyond the North Sea region. The geographical focus of the network is: Finland, Sweden, Norway, Denmark, Scotland, Island of Ireland, Faroe Islands, Iceland, Greenland and the Baltic countries.
Lockdown and COVID-19 meant that the focus of the heritage sector was how to connect with audiences remotely. Whether this be through live online events, social media, virtual tours or other means. In the coming year there is much emphasis on sustainability and on the return of visitors to museums.
Evidence prior to COVID-19 shows that such exhibits have a positive impact in: communicating heritage, improving the sustainability of museums, improving visitor numbers and contributing to the wider Scottish economy. This is recognised by museums who are setting aside valuable space, and time to host immersive exhibits in the coming year. Through developing, deploying and using immersive exhibits we will enhance the "within walls" museum experience with the following impacts:
Create digital heritage assets: including 3D models, historic scenes and records of intangible heritage.
Improve the way that heritage is communicated.
Connect communities with their museum and their heritage.
Make learning engaging, improve understanding and motivate learning
Contribute to social cohesion and inclusion.
Contribute to well being.
Contribute to the sustainability of museums.
Contribute to the tourist economy and prosperity.
Design of a Heritage Impact Toolkit for digital heritage engagement evaluation will facilitate relevant data collection for West Highland Museum, Timespan Museum, Tomintoul & Glenlivet Discovery Centre, North Isles Landscape Partnership Scheme, Finlaggan Trust, Museum of Islay Life, and Comann Eachdraidh Uibhist a Tuath.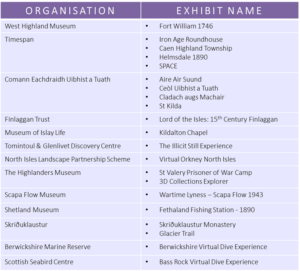 Through surveys, interviews and observation we will collect evidence of impact. Identified profiles for evidence collection include end users (visitors), stakeholders (community), museum and visitor centres (heritage practitioners), and third party organisations (e.g., Creative Scotland, European Commission, ICOM), This will be combined with statistics including visitor numbers and feedback from visitors. Inquiry will cover:
Accessibility – whether the exhibition is easy to use and improves accessibility to heritage,
Learning – whether the exhibit is effective as a learning resource, helping to learn, reassess views on the topic and generating motivation to engage,
Social impact – whether the exhibit helps users engage in heritage and promotes community develop inclusion and cohesion,
Engagement – whether the exhibit is engaging and immersive.