Congratulations to Computer Science Interns Gergely Flamich, Jack Cargill, Iveta Dulova, Tatiana Tay and Finlay Marno for designing a prize winning poster, and providing an excellent demonstration session at the recent EPSRC Impact Showcase held in the School of Medicine.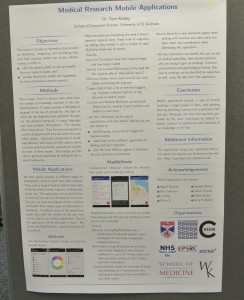 The research presented, focuses on biomedical data science by identifying, integrating and simulating data from both previous studies and current collaborations.
The EPSRC awarded Impact acceleration award (IAA) funding to The University of St Andrews to promote a step change in the delivery of knowledge exchange. There were more than 30 projects funded by the EPSRC. The recent showcase offered an opportunity for university staff and students to find out more about the projects via posters, exhibits and demonstrations.