DISTINGUISHED LECTURE SERIES
Semester 1
TITLE:
Distributed Systems and Sensing
by
Julie McCann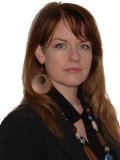 7th November 2016
Lower and Upper College Halls
Introduction
By Professor Simon Dobson
School of Computer Science
University of St Andrews
The first of this academic year's distinguished lectures will be given by Professor Julie McCann, Imperial College, London on Monday 7th November 2016 at Lower and Upper College Halls.
Overview
Chirping, self-organising, adaptive and intelligent tiny computers are beginning to enter both the market and people's homes, performing various monitoring and control duties. From Google's self-drive cars to the walls of modern office blocks, these simple devices are talking to each other in highly intelligent ways, mimicking the collective behaviour of insect colonies, for example, to overcome individual failures or changes in the local environment.
 Biography
Prof Julie A. McCann is a Professor of Computer Systems in Imperial College London (IC), where she leads the Adaptive Embedded Systems Engineering Research Group, she is Director for the Imperial wide Centre for Smart Connected Futures, Co-Director of the Intel Collaborative Research Institute for Sustainable Cities and she is CI for the NEC Smart Water Systems Lab and many other substantive projects with industry and academia with a focus on networking and sensing infrastructures to support environments such as smart cities, water and gas networks etc. She is CI on the EPSRC energy/water/food nexus WefWebs project where her focus is on precision farming and wine making.
Likewise, her NERC FUSE project designed and deployed a now patented sensing infrastructure for floodplain monitoring in Oxfordshire. Her research centres on highly decentralized and self-organizing scalable embedded frugal computing systems where one avoids a single point of failure to produce truly scalable solutions. She is a Fellow of the British Computer Society and is the Associate Editor for ACM Transactions on Adaptive Autonomic Systems (TAAS), has been General and Technical chair for the IEEE International Conference on Self-Adaptive and Self-Organising systems (SASO) and IEEE SECON 2016, SMARTCOMP 2017 and has been on the programme committee for IEEE INFOCOM, ACM UBICOMP and many more. Julie has presented her work in A* conferences and keynoted at the Indian Science Conclave Congregation of Nobel Prize Winners, for the encouragement of disadvantaged kids into science and computing in 2008.
 

Programme:   Monday 7th November 2016

 

09:15 – 09:30

Introduction:

By Professor Simon Dobson

09:30 – 10:30

Lecture 1:

 
Professor Julie McCann will initially talk through how Wireless Sensor Networks are being used today and what other sciences will impact this subject leading to the ability to have Programmable Matter.

10:30 – 11:00

Coffee Break

Refreshments served

11:00 – 12:00

Lecture 2:

 
In her second talk she will come very much down to earth and discuss how such systems are programmed today in terms of the hardware stack that composes them and the protocols that allow them to collaborate.

12:00 – 14:00

Lunch Break

Free time

14:00 – 15:00

Lecture 3:

 
Prof McCann will introduce some of the challenges that still remain, such as scaling this technology to larger dimensions but to also make them more resilient as well as secure etc. and the challenges that control adds to the system.

15:00 – 15:30

Q & A Session:

Open forum

 
Event details
When: 7th November 2016 09:15 - 16:00
Where: Lower College Hall
Series: Distinguished Lectures Series
Format: Distinguished lecture