Next Wednesday, October 3rd between 2 and 4pm, Google will be hosting an event at St Andrews. Come along to the Purdie building (Lecture Theatre A) to learn the ins and outs of technical roles at Google. You'll learn about software and site reliability engineering, product management, and engineering at Google in general. You'll also get insights into the technical interviewing process, and learn about the internships and scholarships available to students.
When: Oct 3rd, 2018 2-4pm
Where: Purdie Lecture Theatre A
Register: https://goo.gl/qjaHgE
Register by Oct 1st for the chance to be invited to an technical interview workshop 6-8pm on Oct 3rd.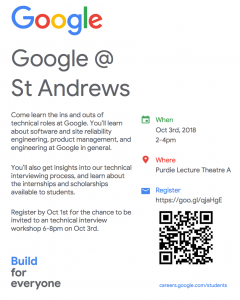 Event details
When: 3rd October 2018 14:00 - 16:00
Where: Purdie Bldg