The School of Computer Science is delighted to announce that President Maria Klawe will be speaking at our Distinguished Lecture Series on March 31st 2016 in St Andrews. This event will consist of a series of talks from 9am with a tea/coffee break, a lunch break, afternoon talk and Q&A session.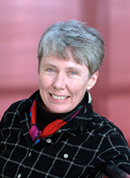 Biography
Maria Klawe became Harvey Mudd College's fifth president in 2006. She joined Harvey Mudd from Princeton University after serving 14 years at the University of British Columbia. Prior to UBC, Klawe spent eight years with IBM Research in California and two years at the University of Toronto. She received her PhD (1977) and BSc (1973) in mathematics from the University of Alberta. In addition to numerous other commitments, Klawe is a member of the boards of Microsoft Corporation, Broadcom Corporation and the nonprofit Math for America and is a fellow of the American Academy of Arts & Sciences.
Distinguished Lecture Series
Lecture 1 starting at 09:00hrs: Computing for all in K-12 education
Lecture 2 starting at 11:00hrs:  Computing for all in undergraduate education
Lecture 3 starting at 14:00hrs: Computing for all in research
There will be a Q & A session between 15:00hrs and 15:30hrs, followed by the opportunity to meet President Klawe informally in the foyer.
Event details
When: 31st March 2016 09:00 - 16:00
Where: Byre Theatre
Series: Distinguished Lectures Series
Format: Distinguished lecture