Congratulations to Kamran Razavi, one of our MSc in Dependable Software Systems (Erasmus Mundus) students, who won the recent Bloomberg CodeCon. CodeCon is a UK wide programming contest organised by Bloomberg and is hosted locally across multiple locations in the UK, one of which was located in the department of Physics at the University of St Andrews.
Kamran emerged first from 20 other contestants at the University of St Andrews and was ranked 19th among 217 other contestants UK-wide, coming from universities such as Cambridge, Oxford and Edinburgh. He was awarded with a championship trophy, Bluetooth speakers, travel accessories and a ticket to London for the main contest, where the top three contestants from each local site will compete against each other.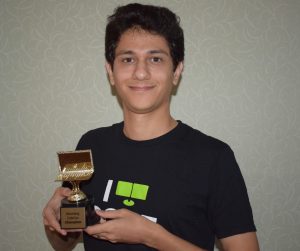 The competition is highlighted through the University emails and after registering students can prepare themselves by solving previous problems.The competition itself, lasted 2 hours with 8 questions in total, which were algorithmic in nature, and required knowledge of data structures.
Kamran was able to solve 7 questions but was only able to submit 6, due to technical problems with the contest host website. The contest could have been taken in 15 programming languages including Java, C++, C, Python etc. Kamran used Java on this occasion and thanked Bloomberg, The School of Computer Science and The University for providing opportunities such as CodeCon. We wish him every success for the final contest.