Earlier today our Junior Honours students presented their Team Projects. The projects involve substantial team based software engineering and rely heavily on collaborative development. There are many aspects of software and professional development along with considerable inter-team and intra-team collaborations. This year the students were asked to develop a version of the Settlers of Catan with AI players. They were further asked to make their games interoperate so one teams AI or human player might play on another teams game and board.
The teams demonstrated lots of creativity with the use of software tools, approaches to AI, use of domain specific languages, remote services, games environments, graphics development, collaborative frameworks and many tools for software engineering project development. Thanks to all the students, supervisors and coordinators for their hard work this year.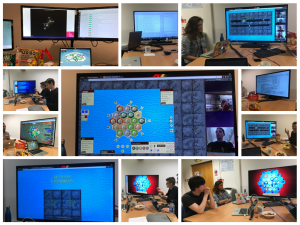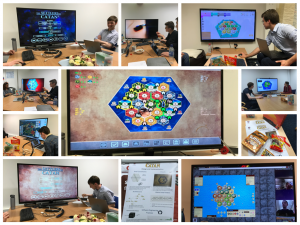 We wish all our junior honours students success with their forthcoming exams and we look forward to seeing them again for their senior honours year in September.
Images and text courtesy of Professor Aaron Quigley